A solid construction estimate is the key to a successful construction project, and ConstructionOnline™ delivers powerful, user-friendly construction estimating tools that make it easy to curate detailed, accurate construction cost estimates quickly.
Every good construction project starts with a good construction estimate, and that project estimate ultimately serves as a central hub for many key aspects of that project - from start to finish. OnCost™ Estimating for ConstructionOnline™ is part of a comprehensive, fully integrated suite of tools expertly engineered for ultimate construction cost estimating & financial management.
Sounds good, right? So, your first step is to create an Estimate.
ConstructionOnline™ offers 4 methods of creation for new construction estimates -
a. From Scratch: Sets you up with a blank Excel-like workbook online and allows you to enter & organize Categories, Subcategories, and Items, building your construction Estimate by hand from the ground up
b. From a Template: Lets you choose from any of the Company Estimate Templates saved in your ConstructionOnline™ Account so that you can begin working from a preloaded structure that may include everything from Subcategories and Items to Quantities, Costs, and Classifications
c. Via Import: Gives you the option to upload an Estimate created outside of ConstructionOnline (and saved in an .XLS or .CSV format) as a starting point for your construction estimate. Using any of ConstructionOnline's downloadable templates, it's easy to format your data to populate directly into OnCost™ Estimating
d. From Redline™ Takeoff: Use measurements, items, and other data populated to online construction plans to start your new construction estimate, and then build additional estimate details around imported takeoff data.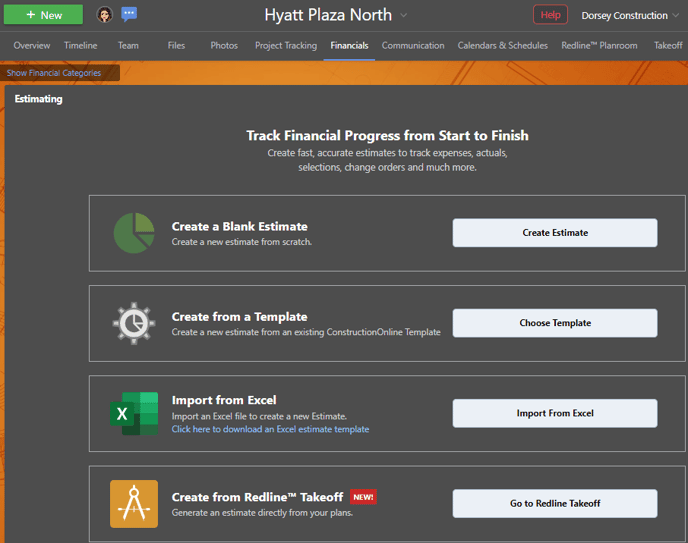 Additionally, when setting out to create the construction Estimate, you'll want to consider the Estimate Structure and Settings -
First, you'll want to consider the Estimate Structure - which defines the Estimate's Level of Detail and the applied Calculation Method.
a. By default, all OnCost™ Estimates are initially set as 3-Level Estimates, which consists of the Category > Subcategory > Item structure. This option offers full compatibility with Redline™ Takeoff, Company Costbooks, Items Database, Assemblies, and more.
b. By default, all OnCost™ Estimates are also inisially set to apply the Standard Calculation Method, where Line Item Base Cost is calculated by multiplying the Unit Cost amount by the entered Quantity value.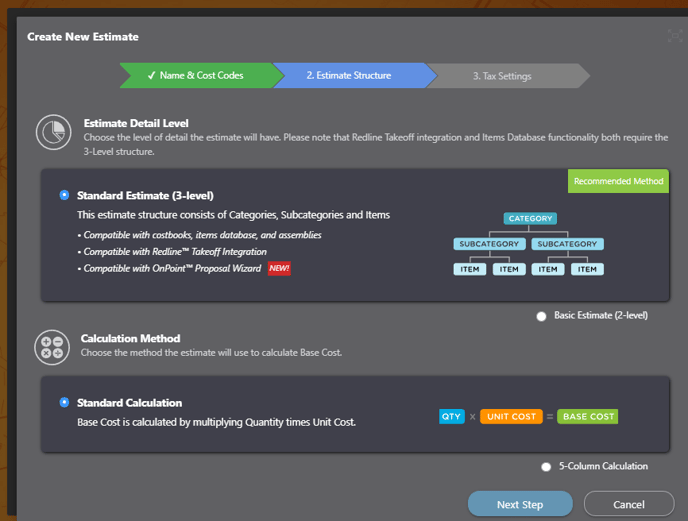 Secondly, you'll be asked to define the Tax Settings for the Estimate - including Tax Calculation Method, Locality, Tax Types, and Tax Rates.
a. By default, the Tax Calculation Method is set to "Tax then Markup," meaning that taxes are applied prior to markup being calculated. Other available options include "Markup then Tax" and "Tax and Markup Separate."
b. With an ever-growing international client base, ConstructionOnline provides Tax Settings specific for localities in the United States, Canada, Australia, and the United Kingdom.
c. Fully customizable Tax Types and Tax Subtypes offer total flexibility for all construction projects in any locale around the world. You can add, rename, edit, and delete Tax Types and Tax Subtypes to ensure the exact tax calculations required are applied to your construction estimate.
d. Tax Rates (%) populate to the Estimate based on the selected Tax Type. The Tax Rate (%) calculates a total based on included Subtype (%) or can be manually entered.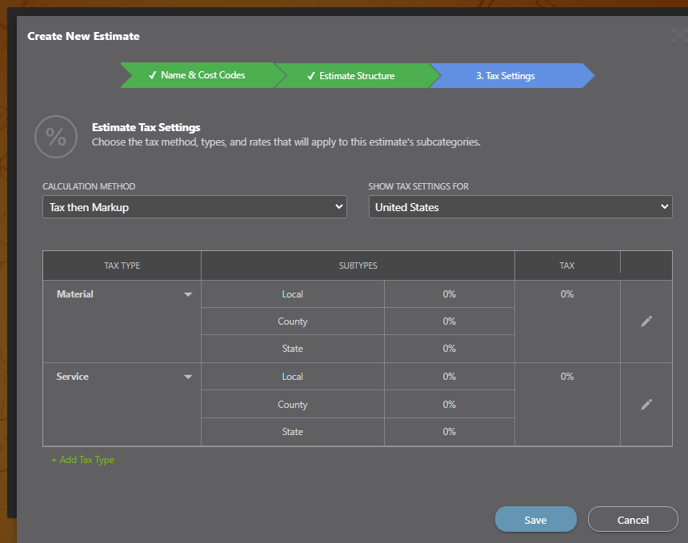 Not sure which method is right for you?
There are several questions to take into consideration here that can help you determine the best initial path forward -
Are you planning to integrate this construction estimate with a desktop version of QuickBooks or QuickBooks Online?
If yes, you'll likely want to use an Estimate Template. Check with your team and open up an internal discussion about current cost estimate templates and accounting integration preferences. Access your company's Estimate Templates from the Company Overview > Company Projects > Templates > Estimate Templates.
What's important to understand here:
When an estimate is sent to QuickBooks or QuickBooks Online from ConstructionOnline, our integration checks to see if the items in the estimate already exist in your QuickBooks Items List.

If an exact match is found already in QuickBooks - great! ConstructionOnline will utilize the existing listing, and a new item won't be created in your QuickBooks Items List.
If an exact match isn't found - no worries! ConstructionOnline will then create the necessary new items in your QuickBooks Items List, so that the data coming from the ConstructionOnline Estimate has somewhere to land in QuickBooks.
📌 This is one of the primary reasons we recommend working with a curated template, or set of templates, when integrating with your accounting system - doing so helps all your construction estimates utilize the same Items when possible, keeping your QuickBooks Items List streamlined and organized (and your accounting team happy!).
Are you planning to utilize takeoff measurements from Redline™ Takeoff when building this construction estimate?
If yes, there's a couple of different approaches you may want to take -
a. Upload your plans to Redline™ Takeoff, start your takeoff measurements from scratch, and then send them over to the estimate when you're ready to finish building out the estimate,
or
b. Start with an Estimate Template. Create an Estimate for your project from your chosen Estimate Template, use the structure from that Estimate Template to guide your takeoff measurements, and pull your measurements right back into the Estimate whenever the time is right.
What's important to understand here:
Only Estimates and Estimates Templates set up with 3-Levels of Detail using the Standard Calculation Method are compatible with Redline™ Takeoff measurements, because takeoffs deal specifically with individual units, unit costs, quantities, and more - properties that are exclusive to the Line Item level of detail in OnCost™ Estimates.
Are you planning to use ConstructionOnline's Company Costbooks, Assemblies, and Items Database when building this construction estimate?
If yes, then you'll want to be sure you are creating a 3-Level Estimate that utilizes the Standard Calculation Method - whether choosing to create that Estimate from scratch, from a template, or via import.
What's important to understand here:
Only Estimates and Estimate Templates set up with 3-Levels of Detail using the Standard Calculation Method are compatible with ConstructionOnline's Costbooks, Assemblies, and Items Database, because all of these tools are utilized to store, organize, and manage individual details, costs, and more for specific Estimate Line Items.
☑️ Estimate created. What's next?
If you created your Estimate from a Template, via Import, or from Redline™ Takeoff, you'll likely already have at least some of the Estimate Categories, Subcategories, and Line Items built out. If you created your Estimate from Scratch, you're starting from the ground up. Either way, it's time to dig in and ensure your new construction Estimate has a solid foundation for moving forward by -
Inserting Categories, Subcategories, and Line Items
You may want to work with Items or Assemblies from your Company Costbooks - a great method for helping to standardize construction cost estimates across your company and ensure accurate, up-to-date estimates as ConstructionOnline's Items Database offers efficient, user-friendly methods for entering and applying cost updates.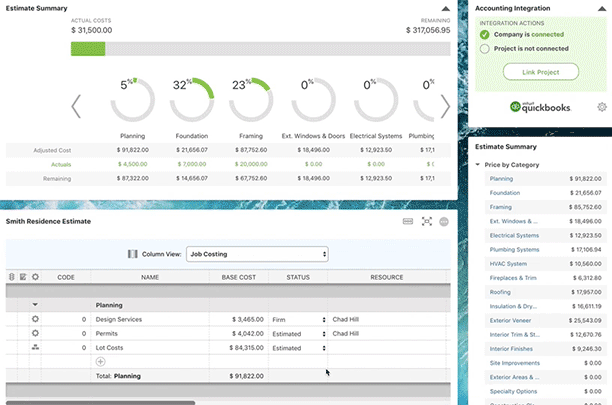 As you're adding new Categories, Subcategories, and Line Items to your Estimate and entering in all the relevant Category, Subcategory, and Item details, you'll want to be sure you're working in the best view to support the current phase of the job and your current goals.
Generally, when building a new Estimate, most ConstructionOnline Users choose the Advanced Estimating or Simple Estimating Column View, but you can work within any of ConstructionOnline's 5 pre-defined Estimate Column Views or customize a view to suit your particular needs or preferences:
Other helpful adjustments you can make to your Estimating view in ConstructionOnline include Full-Screen Mode, options to Show/Hide Empty Sections, and the convenient Estimating Toolbar, which makes key Estimating functions easily available right on your screen - wherever you place the toolbar.

Last, but not least: Estimating Power-Ups ✨
Estimating "Power-Ups" are special tools that help you get the most out of ConstructionOnline's OnCost™ Estimating - these are really the differentiators that set OnCost™ Estimating apart from competitive construction estimating solutions or your everyday spreadsheet, the functions & features that empower you to supercharge your construction estimates:
Comprehensive Company Overhead & Margin
Adjustments v. Change Orders
Industry-Leading Account Integration
HAVE MORE QUESTIONS?
Frequently asked questions (FAQ) regarding OnCost Estimating can be found in the FAQ: Estimating article.
If you need additional assistance, chat with a Specialist by clicking the orange Chat icon located in the bottom left corner or visit the UDA support page for additional options.