OBJECTIVE
To create an Estimate in ConstructionOnline.
BACKGROUND
ConstructionOnline provides the most powerful cloud-based Estimating in the industry, giving users the ability to manage their Project Financials from Proposal generation through final Invoicing.
THINGS TO CONSIDER
Estimates must be associated with a Project in ConstructionOnline
There are two Cost Calculation Methods for Estimates: Standard and 5-Column
Selections and Change Orders are shown in the Estimate, and will factor into the Project Total once Approved.
Company Users assigned to the Project must have permission to be able to create, edit, or delete an Estimate.
STEPS TO CREATE A NEW ESTIMATE
Navigate to the desired Project via the Left Sidebar
Select the Financials tab


This will automatically open the Estimating category

Choose how you'd like to create your Estimate: Create a Blank Estimate, Create from a Template, or Import from Excel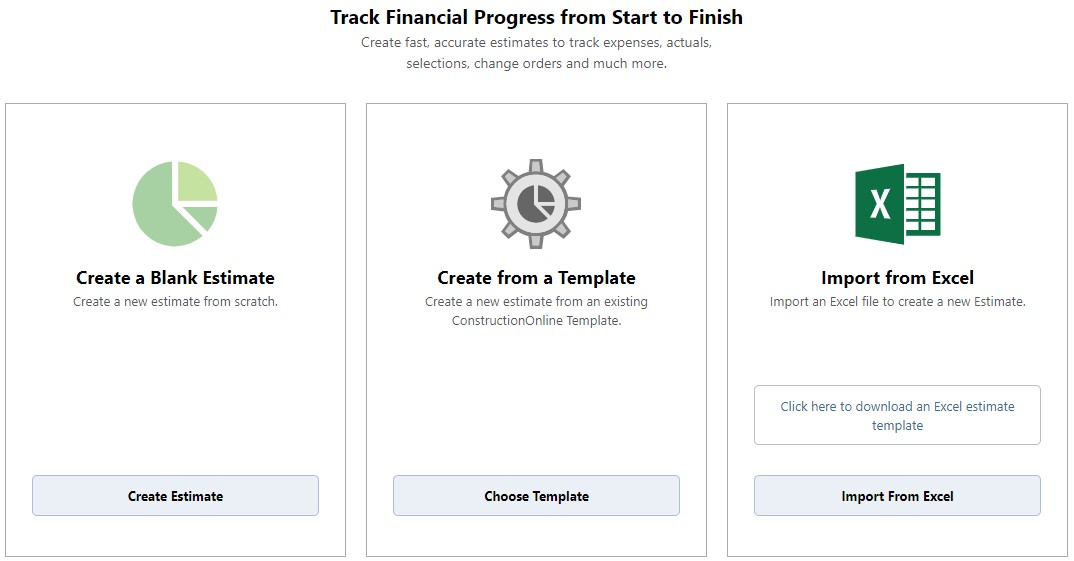 A. Create a Blank Estimate:
Click the Create Estimate button


Fill out Steps 1-4 in the window

Step 1: Enter the Estimate Name & assign a Cost Code list
Step 2: Choose either Standard (2-Level) or Advanced (3-Level) level of detail
Step 3: Select the Standard or 5-Column Calculation Method
Step 4: Choose the Tax Method, Settings, Types, & Rates to be applied
Click Save

The new Estimate will automatically open
B. Create from a Template:
Click the Choose Template button


This will open the Create Estimate from Template window

Select the desired Template and enter the Estimate Name
Click Save


The new Estimate will automatically open
C. Import from Excel:
Download the Excel estimate template if you haven't already


Choose the Template Type & click Download
Follow the instructions to enter your information in the Template and save it

Exit Excel and return to ConstructionOnline

Click the Import from Excel button
Choose the Excel File to Import and enter the Estimate Name
Fill out the Estimate information based on the Excel template
Click Save


The new Estimate will automatically open
You can create an Estimate anywhere in the Financials category by clicking the green +New button to the top right of the Left Sidebar.
HAVE MORE QUESTIONS?
We're here to help! Chat with a Specialist by clicking the orange Chat icon in the bottom left corner or Contact UDA Support for additional options.