GamePlan™ is automated construction task management reporting from UDA's all-in-one construction project management software, ConstructionOnline™
Designed to keep construction projects always on task and on target, GamePlan™ - exclusively available for ConstructionOnline™ - is the definitive answer to task management for construction teams.
Fully automated and customizable, GamePlan™ task lists compile all activities assigned to a particular contact or resource into a single, personalized report. The GamePlan™ task list report is delivered at regular intervals to the designated contact via email and/or mobile notification, while also accessible through ConstructionOnline™, ConstructionOnline™ Mobile, & ClientLink™ and TeamLink™ Portals.
By streamlining communication through the intelligent automation of GamePlan™ task lists, company employees, subcontractors, vendors, and other construction team members know exactly what work needs to be done, where it needs to be done, and when it needs to be completed.
Download Sample GamePlan™ Report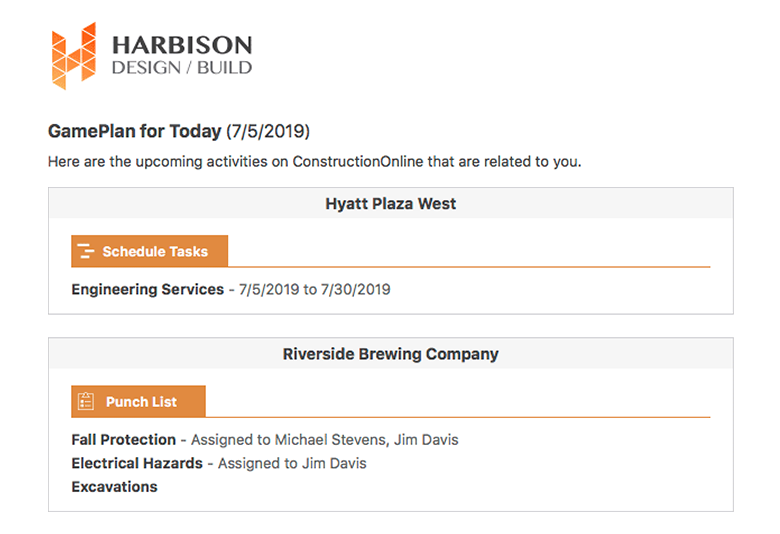 Inclusive Automation

GamePlan™ reports automatically pull from all company calendars, project schedules, to dos, punch lists, checklists, and RFIs in ConstructionOnline™ to deliver an detailed plan of action to subs, suppliers, superintendents, and more. By referencing the assigned resource(s) on each activity, GamePlan™ uses data already populated to ConstructionOnline™ to empower teams to focus and prioritize effectively.
Accessible directly via email, GamePlan™ reports make it easy to reach everyone on your team automatically without requiring them to login to ConstructionOnline™ to check for updates.

Customizable Communication

GamePlan™ reports are fully customizable for each contact. Choose how frequently the GamePlan™ is sent, what day & time it's sent, the timeframe of activities included, and if activities are filtered by date or by project.
Since GamePlan™ settings can vary from one contact to another, your project manager can receive a weekly list of responsibilities every Sunday at 5:00 pm while your subs might only receive a list every 4 weeks of tasks coming up in the next month.

Set It & Forget It!

ConstructionOnline™ Company Users can set GamePlan™ reports up for any contacts in the ConstructionOnline™ Company Account. Once configured, individual GamePlan™ reports recur automatically at the scheduled frequency until discontinued.
Since repetition is key to success, GamePlan™ reports can be scheduled to send automatically daily, weekly, bi-weekly, or monthly, on a specific day of the week at a specific time. Set the preferences that best fit your contacts' needs, and ConstructionOnline™ does the rest!
GAMEPLAN™ KEY TERMINOLOGY
Schedule Tasks: Activities that populate a Gantt Chart Schedule.
Generally have a timeline stretching days, weeks, or months.
Calendar Events: Activities added to a Project or Custom Calendar.
Generally have a timeline of hours or days.
To Dos: Individual items populated to the Company or Project To Do List.
May or may not have a specific due date.
Punch List Items: Items included on individual Project Punch Lists.
May or may not have a specific due date.
Checklist Items: Items included in individual Project Checklists.
May or may not have a specific due date.
RFIs: Requests for Information, formal project correspondence tracking time-sensitive inquiries. Generally have a specific due date.
HAVE MORE QUESTIONS?
We're here to help! Contact UDA Support via live chat, email, or phone for additional assistance.