Create a GamePlan Email
OBJECTIVE
To create a GamePlan email for a ConstructionOnline user
BACKGROUND
Designed to keep your project team on task and on target, ConstructionOnline GamePlan emails provide an automatic list of Activities, Meetings, Scheduled Project Tasks, and ToDos delivered to your subs, suppliers, superintendents, and more.
THINGS TO CONSIDER
GamePlans include tasks that a Resource has been assigned to; if no tasks are assigned, Gameplan emails will be empty.
STEPS TO CREATE A GAMEPLAN EMAIL
Navigate to GamePlans via the Left Sidebar
Click the green +Add New GamePlan button

This will open the New GamePlan window

Select who to create the GamePlan for, when & how often to send it, and what to include
Click Create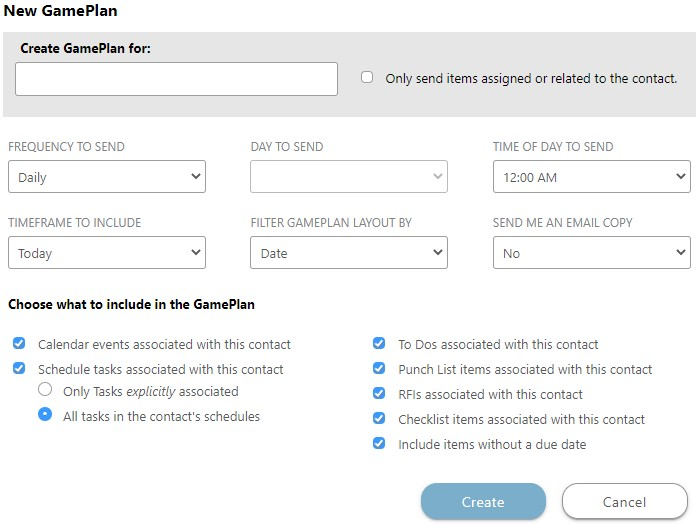 TIPS AND TRICKS
Not sure why a task or event isn't appearing on a contact's GamePlan? Check to make sure the contact is assigned as a Resource on that item!
HAVE MORE QUESTIONS?
We're here to help! Chat with a Specialist by clicking the orange Chat icon in the bottom left corner or Contact UDA Support for additional options.