Designed to keep your project team on task and on target, ConstructionOnline provides GamePlan emails send an automatic list of project activities to your team members. With GamePlan emails set up, you can stop worrying and start winning.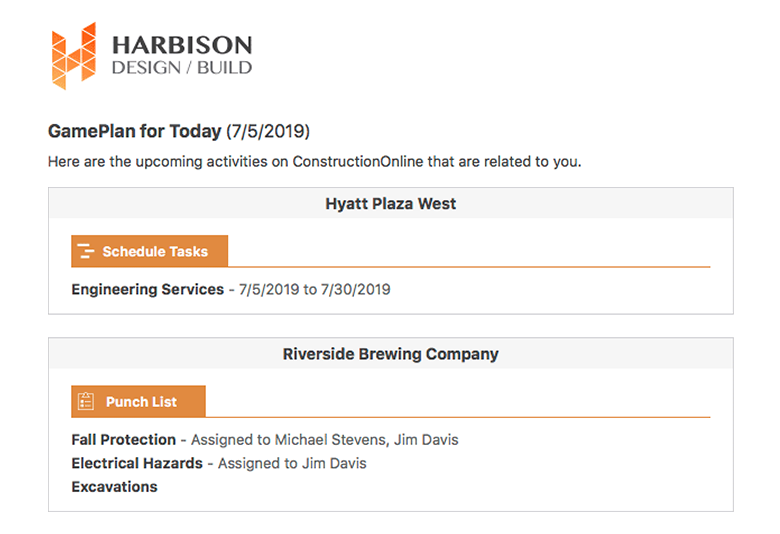 Improve Your Communication with ConstructionOnline GamePlan

Designed to keep your project team on task and on target, ConstructionOnline GamePlan emails provide an automatic list of activities, meetings, scheduled project tasks, and todos delivered to your subs, suppliers, superintendents, and more.

Customize GamePlans to Fit Your Needs and Boost Productivity

GamePlans are fully customizable for each contact and can even be scheduled to be sent at a specific day or time.
Now your project manager can receive a weekly list of responsibilities on Sunday at 5:00 pm and your subs can receive a forward looking list of tasks for the next month.

Send Automated GamePlans by Email and Keep Everyone Informed

GamePlan emails from ConstructionOnline give you the power to reach everyone on your team automatically without requiring them to log into ConstructionOnline™ or check for updates.

Quickly Set Up Recurring Emails To Stay On Track

GamePlans in ConstructionOnline can be configured to automatically send a custom list of activities, meetings, project tasks, and todos for selected subs, suppliers and other team members.
Since repetition is the key to success, GamePlans can be sent automatically daily, weekly, biweekly, and monthly, on a specific day of the week at a specific time. You provide the planning and ConstructionOnline does the rest.
HAVE MORE QUESTIONS?
We're here to help! Chat with a Specialist by clicking the orange Chat icon in the bottom left corner or Contact UDA Support for additional options.