OBJECTIVE
To complete the company integration settings with ConstructionOnline and QuickBooks Online
BACKGROUND
Integrating your ConstructionOnline account with your QuickBooks Online account creates a live connection between the two, eliminating redundant data entry and improving accuracy and efficiency. Accounting Integration in ConstructionOnline can only be activated by the Account Owner.
THINGS TO CONSIDER
Your company's QuickBooks Online administrator will need to approve the integration process.
Only ConstructionOnline Company Administrators can sync ConstructionOnline and QuickBooks Online.
QuickBooks Online uses universal settings when integrated with ConstructionOnline, meaning you don't have to create an account for each job.
ConstructionOnline Projects sync as QuickBooks Online Sub-customers and integration must be activated in ConstructionOnline per-project settings.
STEPS TO INTEGRATE WITH QUICKBOOKS ONLINE

Navigate to the Company Dropdown Menu at the top right corner of the page
Select QuickBooks Integration
Choose Connect to QuickBooks Online
Click Next


This will open the Connect Your ConstructionOnline Account to QuickBooks Online window

Choose how you want ConstructionOnline to send your financial data to QuickBooks Online in Steps 1-3
Once step 3 has been completed, click Finish

A new window will open prompting you to allow ConstructionOnline to integrate with QuickBooks Online

Choose Connect

The window will close and a success message will display in ConstructionOnline saying you are connected to QuickBooks Online

Click Close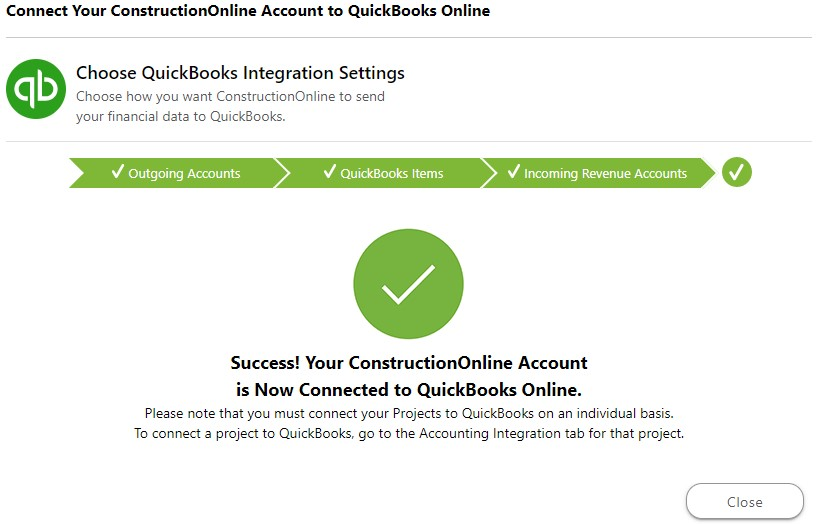 TIPS AND TRICKS
Having trouble with the QuickBooks Online login step? Be sure your pop-up blocker is turned off.
HAVE MORE QUESTIONS?
We're here to help! Chat with a Specialist by clicking the orange Chat icon in the bottom left corner or Contact UDA Support for additional options.