Manage construction jobs with clarity and ease when using detailed Requests for Information (RFIs) to track critical inquiries and resolutions.
Common in business administration and quality assurance, Requests for Information (aka RFIs) provide a format for documenting inquiries and subsequent responses to ensure clear, timely resolutions. In construction, RFIs are extensively utilized across multi-facted teams to address general inquiries and/or conflicts, to expand upon the orginal scope of the contract, and to resolve subtle ambiguities and/or larger informational gaps.
Although RFIs can be employed in any variety of different circumstances, construction teams commonly utilize RFIs for inquiries requesting clarification, updates, corrections, and additional details related to -
Project Drawings & Design
Materials & Specifications
Contracts & Scopes of Work
Building Codes, Standards, & Permits
Site Topography, Conditions, & Constructability
By formalizing the documentation of such project communication with standardized RFIs, construction teams are able to avoid costly delays, decrease corrective rework, and limit legal & financial liability. Many construction project management software systems include tools specifically designed to handle construction correspondence and documentation - like RFIs - and include designated fields for tracking key RFI details, such as:
Due Date
Cost Impact
Schedule Impact
Attachments & Drawings
Related Trade
Responsible Resource(s)
ConstructionOnline™ RFIs (Requests for Information)
As part of ConstructionOnline's industry-leading tools for construction communication & document management, RFIs empower construction teams to track project progress, communicate more effectively, and most importantly, maintain detailed records of questions & answers.
ConstructionOnline Company Users can easily create, duplicate, and edit RFIs via ConstructionOnline and ConstructionOnline Mobile. Clients, subcontractors, vendors, and other members of extended construction teams also have access to shared RFIs via custom online & mobile logins.
Relevant files, photos, drawings, and/or specifications can be directly attached to individual RFIs in ConstructionOnline for easy reference. By correlating all attachments to individual project inquiries, the system works to facilitate faster responses and promote successful collaboration.
RFIs & Replies are automatically saved as "Drafts" prior to being sent, which allows users to easily pick up open correspondence threads as needed. RFI Drafts are only accessible to creators prior to being sent.
RFI Notifications
When an RFI is created, the creator can choose to trigger an immediate email notification to Contacts included in the To, Assigned To, and CC fields. Email notifications include all RFI details & attachments, as well as an automatically-generated RFI Summary Report.
Not only do recipients receive email notifications regarding RFIs, but they are able to answer any RFI directly via email. Meaning that architects, engineers, designers, and other third party construction team members don't have to login to enter a response on the RFI thread - they can simply hit "reply" in their inbox, just like an email, and their answer populates in-line to the RFI in ConstructionOnline.
To document the close of an inquiry, the RFI creator can update the status of the RFI to be "Resolved" or "Unresolved." Marking a RFI as "Resolved" effectively closes the inquiry, while marking an RFI as "Unresolved" will prompt the user to take further action, such as sending the request on to another Contact, until a sufficient resolution is reached and documented within the system.
Notifications are delivered via email or text message when a new response is submitted, a request is resolved, or a request becomes overdue.
RFI Tracking
Requests for Information are primarily tracked by two key details - Due Date and Status. Defining Due Dates effectively for construction RFIs works to ensure that inquiries are answered in a timely fashion and helps to prevent delays that may impact project progress. ConstructionOnline categorizes RFI Status in any 1 of 3 defined categories - Overdue, Waiting, or Resolved: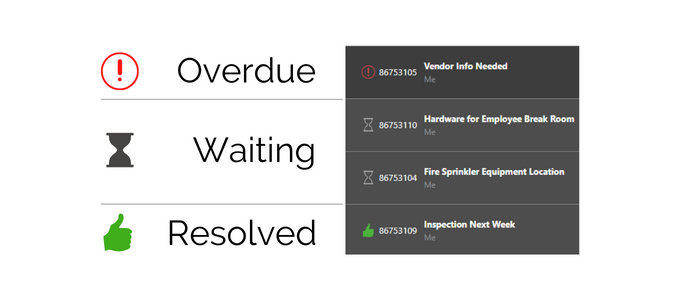 To enhnace transparency and ensure accountability across construction teams, ConstructionOnline automatically organize RFIs into purpose-built Detail & Summary views. By offering clear, actionable correspondence management within each view, ConstructionOnline ensures that it's easy for construction pros to track RFIs and keep project communication on track.
Both Detail & Summary views for RFIs can be conveniently filtered by ConstructionOnline's compound filters, including such fields as -
Due Date
Status
Author
Recipient
Assigned Resource
Complexity
Cost Code
Trade
RFI Dashboards & Reports
Each ConstructionOnline Project offers an RFI-focused dashboard - the RFI Status Breakdown. This dashbard displays the total number of All RFIs on the project, as well as individual counts of requests that are Waiting, Overdue, and Resolved.
Clicking into the individual dashboard segments automatically filters the selected RFI view to display only the requests which fall within the parameters of the selected dashboard segment.
A summary of the project's Requests for Information (RFIs) can be exported to Excel in .XLXS format at anytime, delivering a spreadsheet which includes comprehensive RFI details like - RFI #, Status, Subject, Author, Assigned Resource(s), Date Created, Due Date, Date Answered, Contact Answered By, Cost Impact, Schedule Impact, Drawing No., Location, Trade, Recipients, Complexity, and Project.
Additional reports available for Requests for Information within ConstructionOnline's library of Communication Reports include -
RFI Summary: May include an individual RFI or all RFIs for a project.
RFI Log: List of project RFIs which can be filtered by Status, Trade, and more.
RFI KEY TERMINOLOGY
Author, aka RFI Creator: Contact who initiated the request and only Contact who may mark the request as "Resolved" or "Unresolved."
Assigned Resource: Contact assigned as responsible for the request, generally the party who is responsible for completing the matter related to the inquiry.
Due Date: Date by which an answer to the request is required.
Added Days: Potential number of additional days that may be added to the Project Schedule in relation to the request.
Trade: Labor classification of trade category associated with the request.
Selected from Trade dropdown list. Can be customized.
Cost Impact: Estimated dollar value impacted by the request.
May be "TBD" (To Be Determined)
Cost Code: Financial classification of cost category associated with the request. Selected from Cost Code list associated to the Project.
Resolved: RFI Status option which denotes a sufficient answer to the request and closure to the inquiry.
Unresolved: RFI status option which denotes further action is required to sufficiently answer the request; next step must be selected upon marking a request as "Unresolved."
Waiting: RFI Status option which denotes that the request is unanswered and the Due Date is in the future.
Overdue: RFI Status option which denotes that the request is unanswered and the Due Date has passed.
Draft: A RFI or RFI Reply that has been initiated, but not yet "Sent."
Only accessible to the creator.
Trash: Option which users can select to remove requests from active Detail & Summary views. RFIs in "Trash" may be "restored" or "deleted forever."