OBJECTIVE
To set Observed Holidays (Non-Workdays) in a Project Schedule.
BACKGROUND
ConstructionOnline's Scheduling automatically calculates and shifts project tasks to account for observed holidays. For example, if a task takes two days to complete, but a holiday occurs between the start and end dates, the schedule will account for the holiday and adjust the task start and end dates accordingly.
THINGS TO CONSIDER
User must have correct permissions to create or edit schedules
A Project Schedule must exist to set observed holidays
Available Holidays are based on the selected Country in the Schedule Settings.
The default holiday calendar is the calendar for the country set on the Company administrator's settings page.
Observed holidays will apply on a per-schedule basis, meaning holidays should be set for each project
STEPS TO SET OBSERVED HOLIDAYS IN A SCHEDULE
Navigate to the desired Project via the Left Sidebar
Select the Calendars & Schedules tab
Choose the Scheduling category
Click the Toolbar icon at the top right of the Schedule Gantt Progress pane
In the Tools tab, click Set Workdays


This will open the Workdays and Holidays window

Select the Holidays tab
Choose the Country then check the observed Holidays
Click Save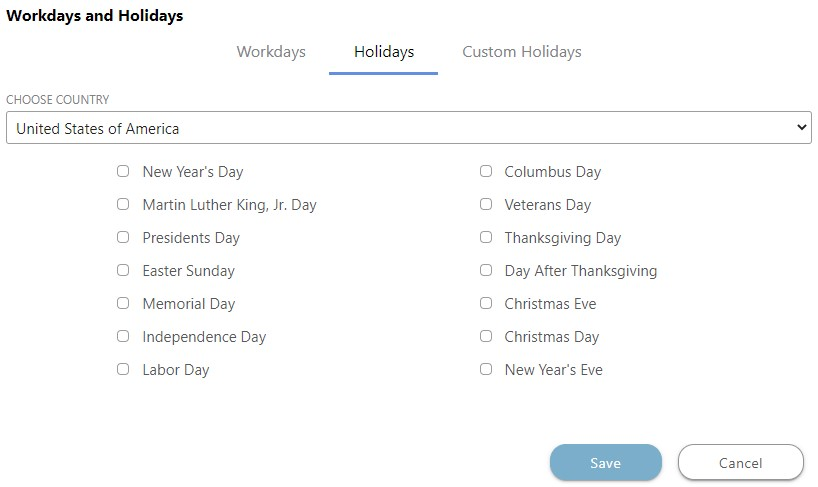 HAVE MORE QUESTIONS?
We're here to help! Chat with a Specialist by clicking the orange Chat icon in the bottom left corner or Contact UDA Support for additional options.