Email Redline Sheets
OBJECTIVE
To email an existing Sheet in Redline
BACKGROUND
Redline is one of the most powerful tools offered in ConstructionOnline. With Redline, users have the ability to annotate and markup plans, drawings, images and other files in projects.
THINGS TO CONSIDER
Company users must have permissions to access Redline Planroom.
Enable the Redline Planroom settings for ClientLink and TeamLink users to view shared folders and plans.
Review the Redline Sheet Requirements to ensure your plans are scanned correctly.
STEPS TO EMAIL A REDLINE SHEET
Navigate to the desired Project via the Left Side Bar
Select the Redline Planroom tab
Check the box(es) to the left of the Sheet(s) you would like to download
Right-click on the Sheet(s)
Hover over Share then select Email



This will open the Share Sheet(s) window

Choose which Revision, Markup that will show, Resource to filter by, and what Items to include
Click Share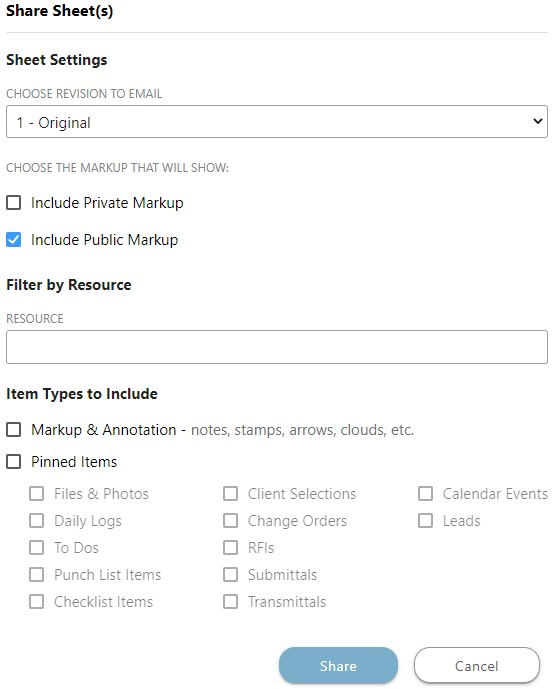 HAVE MORE QUESTIONS?
Frequently asked questions (FAQs) about Redline Planroom can be found in the article FAQ: Redline Planroom.
If you need additional assistance, chat with a Specialist by clicking the orange Chat icon located in the bottom left corner or visit the UDA support page for additional options.