OBJECTIVE
To copy Albums or Folders, as well as Individual Files or Images, to the Portal in ConstructionOnline™.
BACKGROUND
ConstructionOnline cloud file management gives you and your team unlimited storage and access to project documents from anywhere. Give your Team access to important Files & Images by copying them to the ClientLink/TeamLink Portal. If a File is too large to send as an email attachment, copying it to the Portal ensures your project team can access it.
THINGS TO CONSIDER
Files & Images downloaded through the shared link are not tracked or logged by ConstructionOnline.
Copying a private Album/Folder will make its visibility Public in the copied location.
ClientLink/TeamLink users must have the "Recent Files" or "Recent Photos" Permissions checked to see Folders or Albums within the Portal.
Only Administrators and Company Users with permission to Upload and Edit Files and Photos can copy folders/albums to the Portal.
Copying Albums & Folders takes an exact copy of it at that time and will not update as new Files are added to the original Album or Folder. To continually share new Files, try Share Albums/Folders with ClientLink/TeamLink.
STEPS TO COPY ALBUMS/FOLDERS TO THE PORTAL
Navigate to the desired Project via the Left Sidebar
Select the Files tab


Right-click on the desired Album/Folder, or Individual File/Image

Select Copy to ClientLink/TeamLink from the dropdown menu


This will open the Copy to ClientLink/TeamLink window

Choose the Destination to send the Copy

Select Visible to All Clients/Subcontractors or select an individual user

Highlight the gray bar to copy the File without putting it in an existing Album/Folder OR select a preferred Album/Folder

Click Copy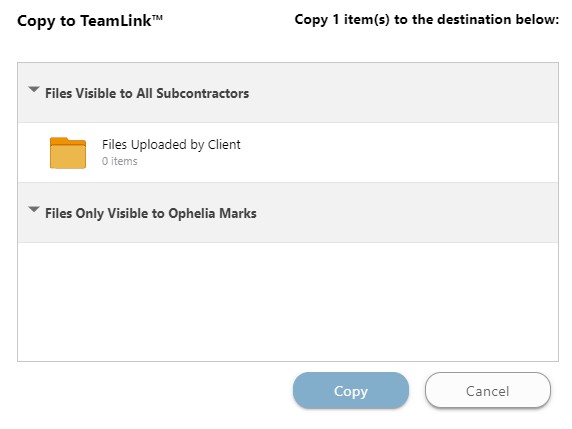 HAVE MORE QUESTIONS?
We're here to help! Chat with a Specialist by clicking the orange Chat icon in the bottom left corner or Contact UDA Support for additional options.