Add a Traffic Light to a Task
OBJECTIVE
To add a Traffic Light to a Schedule Task in ConstructionOnline.
BACKGROUND
The Traffic Lights feature in Project Schedules allows Schedule Tasks to be tagged with red, yellow, or green markers. These markers can be used as a fast, visual reference to check on the status of certain tasks, but that is not their only use. Many ConstructionOnline users have come up with their own meanings for the traffic light colors to communicate to their team members efficiently and effectively.
STEPS TO ADD TRAFFIC LIGHTS TO SCHEDULE TASKS
Navigate to the desired Project via the Left Sidebar
Select the Calendars & Schedules tab
Choose the Scheduling category
Locate the Traffic Light column
Click into the cell in the Traffic Light column of the desired Task
Select Green, Yellow or Red

Changes are automatically saved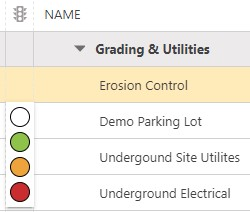 HAVE MORE QUESTIONS?
We're here to help! Chat with a Specialist by clicking the orange Chat icon in the bottom left corner or Contact UDA Support for additional options.