Get familiar with ConstructionOnline's layout & menu options to accelerate adoption of the industry's #1 construction project management software.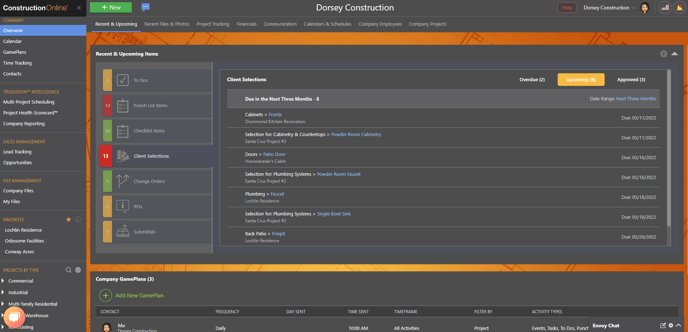 When logging into ConstructionOnline as a Company Employee, by default users land on ConstructionOnline's Company Overview page (shown above). From here, Account Settings, Company Projects, Files, Reports, and more are easily accessible. Learn more about ConstructionOnline's various menus and navigation options below:
MENUS & NAVIGATION
A. Left Sidebar



Company: Includes the Company Overview, Company Calendar, Company GamePlans, Time Tracking, and Company Contacts List, all specifically configured to keep teams up-to-date and on the same page.
TrueVision™ Intelligence: Offers access to cutting-edge business intelligence features, including Multi-Project Scheduling, Project Health Scorecard™, and Company Reporting.
Sales Management: Opens Lead Tracking and Opportunities for access to Pipelines, Reports, and other tools designed to increase sales & drive company success.
File Management: Centralized location for storing Company Files (accessible by all Company Employees but not related to a specific project) and My Files (accessible by the individual user/file owner only and not other Company Employees)
Favorites ⭐ / Recents 🕓: Quick-access menu for Projects - find those starred by user under "Favorites"⭐ or those most recently-updated under "Recents"🕓
Project List: Shows all active Company Projects (both "live" & "pending), organized by default per Project Type. Alternative options for sorting the project list can be found under the "..." button and include - Alphabetically, Group by Project Group, Group by Project Stage, Group by Project Category, Group by Region, Group by Office, or Group by Division. Search Projects by clicking the magnifying glass icon 🔍 to open the Project Search bar.
Live Chat with ConstructionOnline Support Team: Connect with ConstructionOnline's Customer Success & Support Team for on-demand, 5-star assistance from trained product experts, available Monday through Friday from 9:00 am ET to 6:30 pm ET.
B. Top Navigation


+New: Ready to create a new Project, Contact, To Do, Conversation...or something else? The +New button is available on every page in ConstructionOnline to present a variety of relevant options for adding new data based on the current feature in use.
Envoy™ Chat Menu - Avatar icons for all currently active Company Employees will display here, making it easy to initiate 1-on-1 conversations with other Company Employees. Company Admins will be able to view the Project & current webpage where the user is active when clicking on the Avatar icon.

Additionally, the general Envoy™ Chat Menu presents options to Create a New Chat, Go to a Direct Chat, Go to Channel, Minimize Open Chats, and Hide Envoy Chat altogether.


---


Envoy™ Chat is also accessible from the Chat window in the bottom right hand corner of ConstructionOnline. Click the ∧ icon to expand Envoy™ Chat window to access current Direct Chats and existing Chat Channels, or use the ⚙️ icon to reveal the Envoy™ Chat Menu with options to access Archived Chats, Hide Group Chats, Minimize the Chat List Window, or Hide Envoy™ Chat.


---





Help Menu: Open a Live Chat with ConstructionOnline's Customer Support Team or access ConstructionOnline's Knowledge Base to search hundreds of step-by-step user guides, articles, and best practices.
Account Settings Menu: Access a variety of controls for the Company Account & the individual User Profile, including Financial Settings, Calendar & Time Settings, Public Profile & Portals, and News & Support.


Country & Language Settings: Choose from options customized for more than 125 countries with region-specific preferences for national holidays, local language & terminology, proper currency representation, standard units of measure, and local date & calendar format.


UDA Latest News & Updates🔔: Access recent posts from UDA's Corporate Newsroom regarding the company's Latest News, New Features, and Recent Updates for ConstructionOnline™ and CO™ Mobile.
C. Company Overview - Feature Tabs


Recent & Upcoming: See the big picture here on the ConstructionOnline Company Overview with actionable, at-a-glance updates for Recent & Upcoming Items, including To Dos, Punch List Items, Checklist Items, Client Selections, Change Orders, RFIs, & Submittals, and reference the Company GamePlans list here to quickly see currently scheduled GamePlan™ Reports and directly +Add New GamePlan Emails with ease.

Company Employees will land on the Recent & Upcoming tab of the Company Overview by default when initially logging into ConstructionOnline. When navigating between Feature Tabs, users will know which tab is currently being accessed by the blue line underlining the Feature Tab name.
Recent Files & Photos: See Files & Photos recently added to the ConstructionOnline Company Account with user-friendly File & PhotoStream views that chronologically depict companywide activity. Toggle between views specifically for "Recent Photos" v. "Recent Files" and filter results by Date and/or Contact.
Project Tracking: Access companywide dashboards, activities, and reports for To Do Lists, Daily Logging, Punch Lists, and Checklists.
Financials: Access companywide dashboards, files, activities, and reports for Estimating, Client Selections, Change Orders, Invoicing, Accounting Integration, and Vendor Transactions.
Communication: Access Company Channels for Envoy™ Chat, alongside company Messages, Announcements, and Call Logs. Additional dashboards, reports, and activities related to company RFIs, Submittals, and Transmittals are also accessible from the Communication Feature Tab.
Calendars & Schedules: Access the ConstructionOnline Company Calendar, TrueVision™ Multi-Project Scheduling, Schedule Templates, and Schedule Reports.
Company Employees: ConstructionOnline Company Admin Users can +Add New Company Employees and Manage Company Employees' Permissions, Passwords, & Notification Settings.
Company Projects: See a complete list of all Company Projects, including Archived Projects, search within Projects, and view ConstructionOnline's dynamic Project Map. ConstructionOnline Templates, including Project Templates, Estimate Templates, and Schedule Templates, are also accessible from the Company Projects tab.
TIPS AND TRICKS
ConstructionOnline has numerous right-click menus throughout the platform - want to easily access relevant options for the task at hand, like editing an RFI, updating a Schedule Task, or downloading a File? Try right-clicking!
SUPPORT
We're here to help! Chat with a Specialist by clicking the orange Chat icon in the bottom left corner or contact UDA Support for additional options.