OBJECTIVE
To link a Category Selection to a Schedule Milestone in ConstructionOnline.
BACKGROUND
ConstructionOnline's powerful Scheduling tool allows construction professionals the ability to build and update detailed project schedules. Project Milestones can be used to mark important dates in a schedule. Use a Project Milestone as a deadline for a client selection to mark the significance of the choice being made by your clients and to keep track of that important due date.
THINGS TO CONSIDER
A schedule must be created and associated with a Project before linking a Category Selection.
STEPS TO LINK A SELECTION TO A SCHEDULE MILESTONE
Navigate to the desired Project via the Left Sidebar
Select the Financials tab
Choose the Client Selections category
Within a Category, locate the desired Selection
Right-click on the Selection

Select Edit Selection

This will open the Edit Selection window

Choose the desired Milestone from the Milestone dropdown menu
Click Save Changes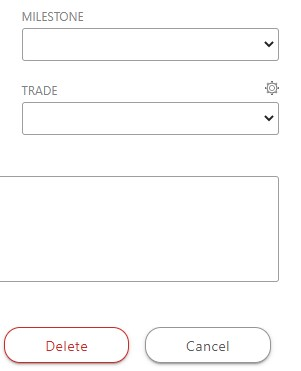 HAVE MORE QUESTIONS?
We're here to help! Chat with a Specialist by clicking the orange Chat icon in the bottom left corner or Contact UDA Support for additional options.