Hide Leads in your Contacts List
OBJECTIVE
To hide Leads in your ConstructionOnline Contacts list
BACKGROUND
Contacts within ConstructionOnline are referred to as Users, and are divided into 5 categories: Company Employees, TeamLink Users, ClientLink Users, Leads & Basic Users. A first name, last name, and email address are required information for adding a user.
THINGS TO CONSIDER
Badges will appear beside Contact names in your Company Contacts list to denote whether they are a Company user, Company Admin, ClientLink user, TeamLink user or Lead
STEPS TO HIDE LEADS IN YOUR CONTACT LIST

Navigate to Contacts via the Left Sidebar
Uncheck the box beside Show Leads in the top right of your Contacts list

Check this box if you wish to show Leads again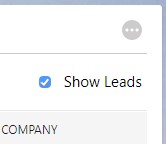 HAVE MORE QUESTIONS?
We're here to help! Chat with a Specialist by clicking the orange Chat icon in the bottom left corner or Contact UDA Support for additional options.