OBJECTIVE
To create new Company Costbooks in ConstructionOnline.
BACKGROUND
ConstructionOnline's Items Database delivers a powerful, yet easy-to-use system for storing, tracking, and managing construction costs. By centralizing construction cost information in a single database, companies can streamline estimate creation, improve estimate accuracy, and apply estimate updates. With multi-level organization, ConstructionOnline's fully customizable Costbooks are flexible enough to support every company's cost structure.
THINGS TO CONSIDER
Costbook Items must be enabled in Estimate Costbook Options for items to be inserted into the estimate.

Estimate Costbook Options are project-specific, so Costbook items must be enabled per project.

Company Users must have permissions to add, edit, and delete Company Costbooks.


Any ConstructionOnline Company User can access Company Costbook Items and insert them in an estimate.
STEPS TO CREATE COMPANY COSTBOOKS
Navigate to the Company Dropdown Menu at the top right corner of the page
Select Company Costbooks
Click the green +Add New Costbook button
Choose Create Blank Costbook

Enter the Costbook Name and select the Currency
Click Save
Open the Costbook and begin populating data


Choose Add a Folder to build in additional levels of organization
Choose Add an Item to begin directly populating items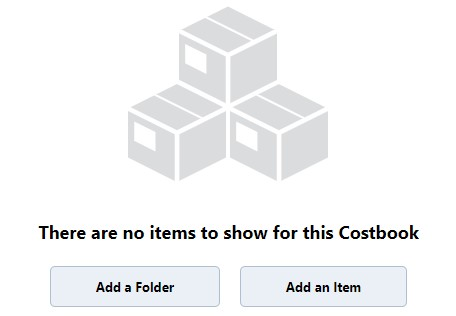 HAVE MORE QUESTIONS?
We're here to help! Chat with a Specialist by clicking the orange Chat icon in the bottom left corner or Contact UDA Support for additional options.