OBJECTIVE
To create an Invoice from an Approved Change Order in ConstructionOnline.
BACKGROUND
ConstructionOnline provides the most powerful cloud-based Estimating in the industry, giving users the ability to manage their Project Financials from Proposal generation through final Invoicing.
THINGS TO CONSIDER
Company Users assigned to the Project must have permission to be able to create, edit, or delete an Invoice.
STEPS TO CREATE AN INVOICE FROM AN APPROVED CHANGE ORDER
Navigate to the desired Project via the Left Sidebar
Select the Financials tab
Choose the Invoicing category
Click the green +Create New Invoice from button
Select Approved Change Order from the dropdown menu



This will open the Create Invoice for an Approved Change Order window

Choose the Change Order to create an Invoice for
Click Continue


This will open the Create a New Invoice window

Enter the Invoice information:

The Invoice Number cannot be edited, but you use the Title field for what you need such as an internal numbering system, a title for the Invoice, etc.
Select the Client from the dropdown menu in the Bill To field
Choose if you'd like to include Sales Tax, the Terms, Due Date, Status, and how much you want to Invoice

Click Create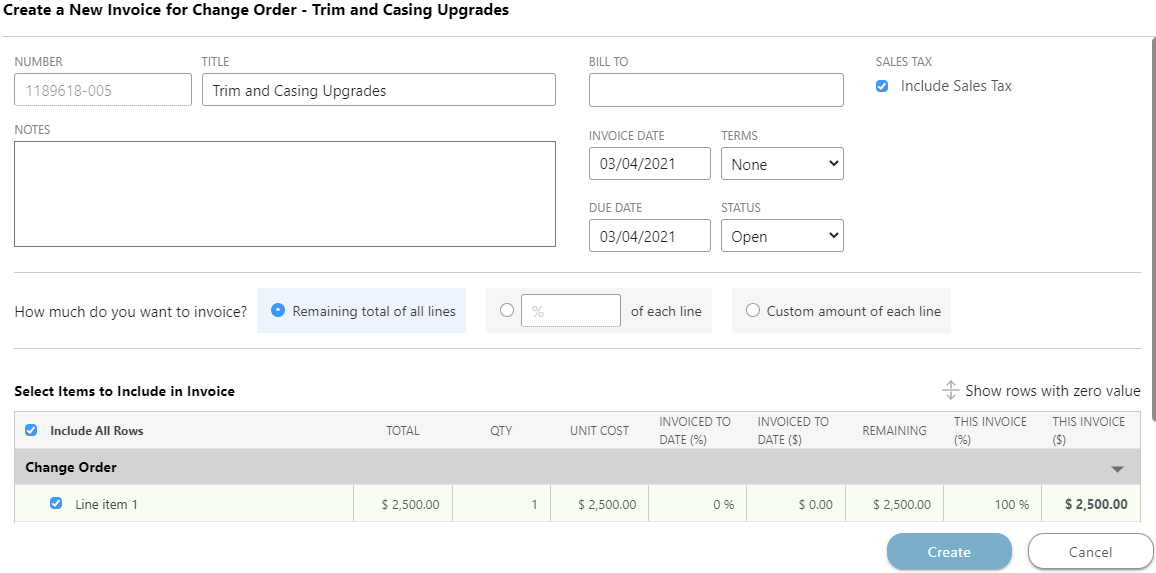 HAVE MORE QUESTIONS?
We're here to help! Chat with a Specialist by clicking the orange Chat icon in the bottom left corner or Contact UDA Support for additional options.