Clock Out Using Time Tracking
OBJECTIVE
To Clock Out Using Time Tracking in ConstructionOnline.
BACKGROUND
ConstructionOnline Time Tracking provides the ability to supervise your company's labor costs, enable Project Location Geofencing, and create Labor Reports all within one integrated system.
THINGS TO CONSIDER
Company Administrators can create and edit Time Entries for all Company Employees.
To enable Geolocation Settings, location tracking must be turned on.
STEPS TO CLOCK OUT OF TIME TRACKING
A. Using a Web Browser:
Navigate to Time Tracking via the Left Sidebar
Click the red Clock Out button



This will open the Clock Out window

Enter Employee Notes & choose to create a Work Log entry (optional)
Click Clock Out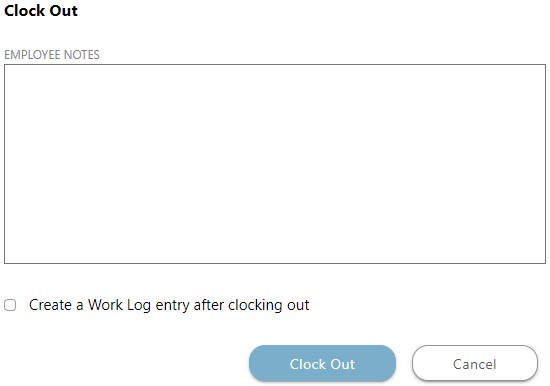 B. Using the ConstructionOnline mobile app:
Navigate to the Time Tracking feature
Click the red Clock Out button

Choose Yes or No to creating a Work Log

HAVE MORE QUESTIONS?
We're here to help! Chat with a Specialist by clicking the orange Chat icon in the bottom left corner or Contact UDA Support for additional options.