OBJECTIVE
To attach files to an existing Submittal in ConstructionOnline
BACKGROUND
Submittals are a great tool to use for documentation of approval for specifications, shop drawings, product information, and/or materials samples. Attach any Files/Photos pertinent to the Submittal for additional clarification.
THINGS TO CONSIDER
Only Company Employees can create Submittals.
Submittals must be associated with an existing Project.
Submittals can be shared with TeamLink & ClientLink members to view and respond to.
STEPS TO ATTACH FILES TO A SUBMITTAL
Navigate to the desired Project via the Left Sidebar
Select the Communication tab
Choose the Submittals category
Right-click on the desired Submittal
Select Edit Submittal


This will open the Edit Submittal window

Choose the Attachments tab
Click the green +Add New Attachment button

This will open the Upload Files window

Choose where to upload your file from or drag & drop it in the window
Click Save Submittal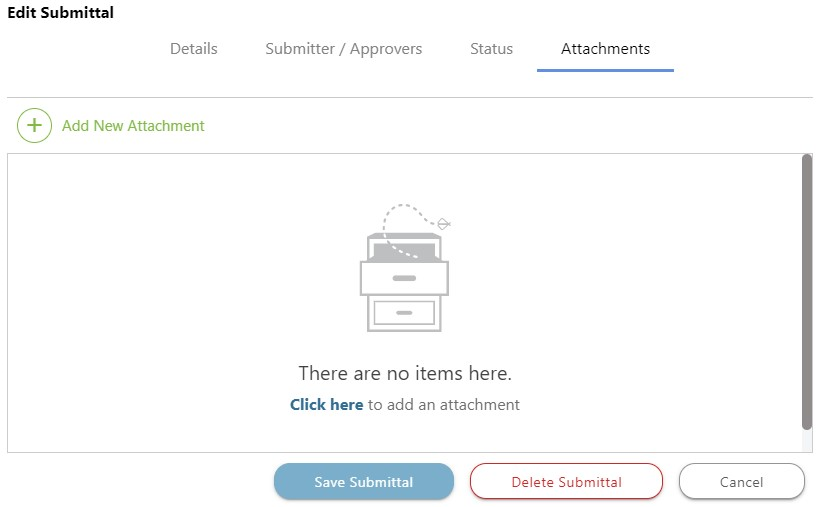 If the Submittal is pending response, you can click the Attach photo(s) or file(s) button at the bottom left of the Submittal response.
HAVE MORE QUESTIONS?
We're here to help! Chat with a Specialist by clicking the orange Chat icon in the bottom left corner or Contact UDA Support for additional options.