Choose what to Show/Hide on ScoreCard
OBJECTIVE
To choose what to Show/Hide on the ScoreCard in ConstructionOnline
BACKGROUND
Company Scorecard presents a comprehensive dashboard view which helps Company Employees track & compile program activity across ConstructionOnline. By providing a high-level view of how users are engaging with the tools in ConstructionOnline, Company Scorecard delivers data to support user accountability and system impact.
STEPS TO CHOOSE WHAT TO SHOW/HIDE ON SCORECARD
Navigate to ScoreCard & Reporting via the Left Sidebar
Choose ScoreCard

Click the gear icon at the top right of the Company Activity pane

This will open the Chart Settings window

Check or uncheck boxes to show/hide Features on ScoreCard
Click Save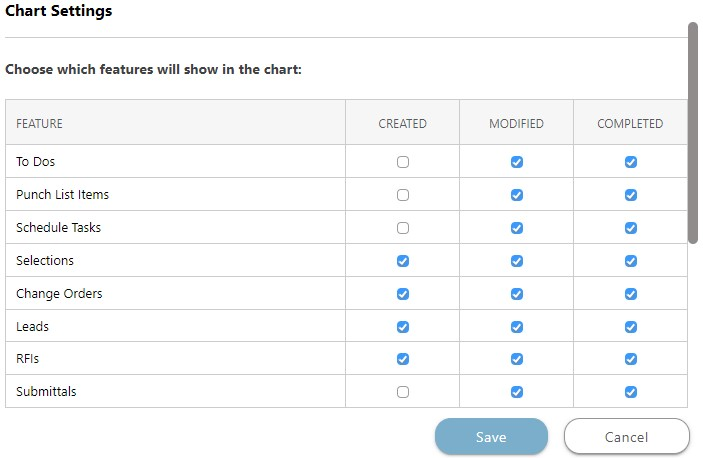 HAVE MORE QUESTIONS?
We're here to help! Chat with a Specialist by clicking the orange Chat icon in the bottom left corner or Contact UDA Support for additional options.