OBJECTIVE
To create a New Message in ConstructionOnline.
BACKGROUND
ConstructionOnline Messaging is a feature available to all ConstructionOnline Users, whether Basic or Pro. Conveniently, it takes the place of text messaging and emails, allowing you to keep all communication centralized within ConstructionOnline and maintain documentation of in-line responses. A thread of messages is referred to as a Conversation.
THINGS TO CONSIDER
Messages must have at least one recipient, but there is no maximum number of recipients
Messages are associated with a Project
Files and images can be attached to Messages
Recipients will receive an email notification as soon as they have a new message
Can be used with Company Employees, TeamLink Users, ClientLink Users, and Basic Users
Messages must be enabled in ClientLink/TeamLink features for ClientLink/TeamLink Users to have messaging access through the client portal
Only visible/accessible to those who are included as recipients and Company Administrators
STEPS TO CREATE A NEW MESSAGE
Navigate to the desired Project via the Left Sidebar
Select the Communication tab
Choose the Messages category
Click the green +Add Conversation button

This will open a new message to the right

Enter the Recipients, the Subject, Message and any attachments
Click Post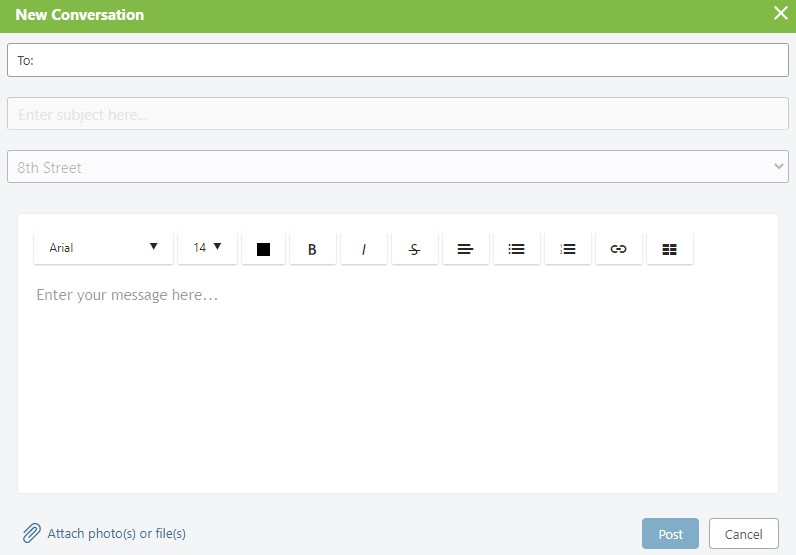 TIPS AND TRICKS
Message conversations can be archived or deleted. However, they cannot be recovered once deleted, so be sure to only delete a message when it is absolutely necessary.
HAVE MORE QUESTIONS?
We're here to help! Chat with a Specialist by clicking the orange Chat icon in the bottom left corner or Contact UDA Support for additional options.