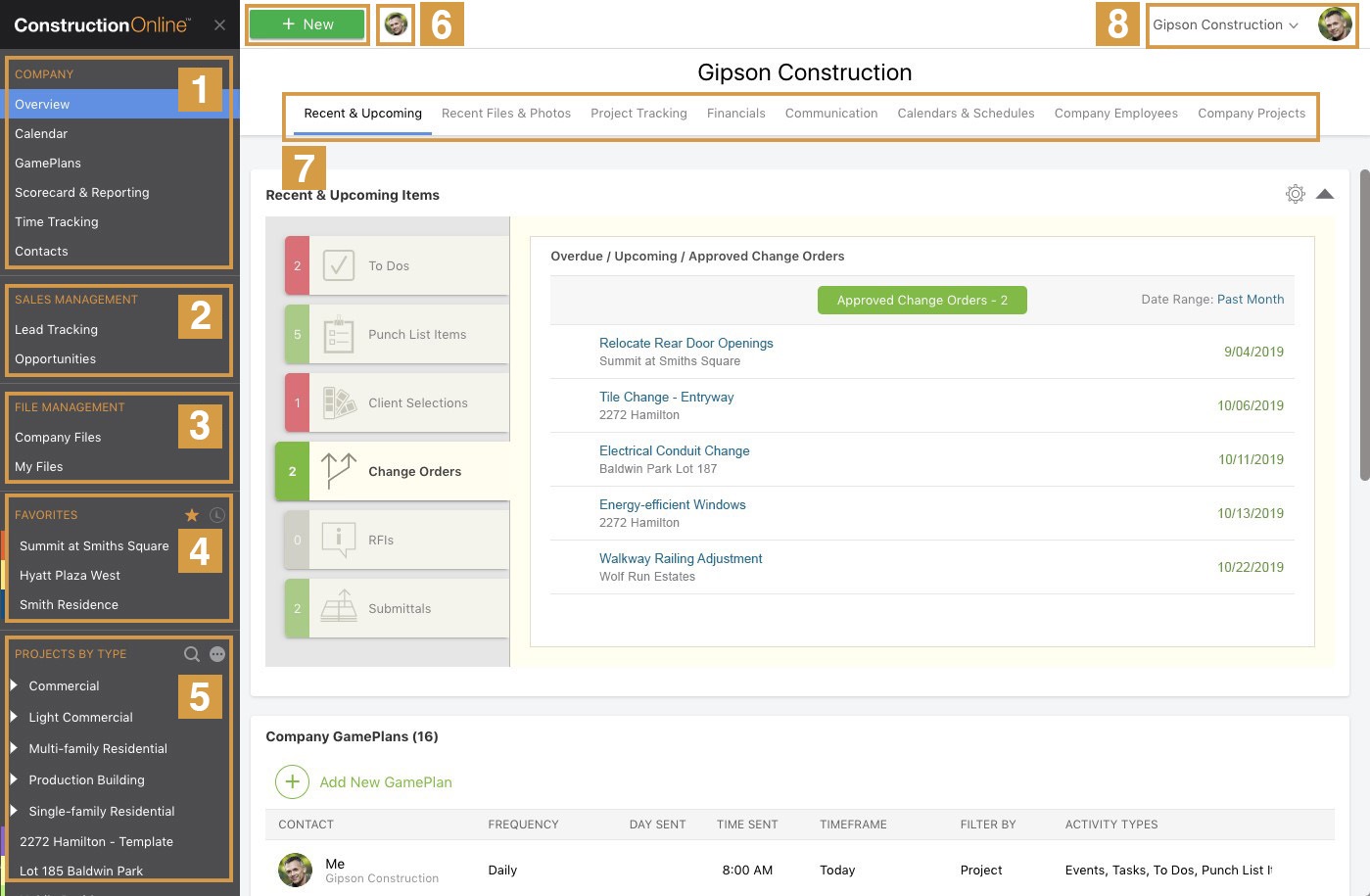 When logging into ConstructionOnline as a Company Employee, the view shown above will be the first page you see. Each section is broken down as follows:
NAVIGATION
Company - This section includes the Company Overview, Company Calendar, GamePlans, Scorecard & Reporting, Time Tracking, and Company Contacts. With the ConstructionOnline Company Overview feature, you can see how your entire business is performing by viewing your recent financial data, schedules, communication and more.
Sales Management - From the Sales Management section you can access your Lead Pipeline, Lead Calendar, Lead Call Log, Opportunities, and Sales Management Reporting Tools.
File Management - File Management provides a centralized location for all your Company Files and Personal Files, such as permits, insurance documentation, forms, and more.
Favorites - Need to access specific Projects frequently? Saving a Project as a Favorite will allow the Project to appear in this section for quick and easy access.
Projects by Type - All Active Company Projects are shown here, organized by the Project Type field.
+New & Contact Bubble

+New - Ready to create a new Project, Contact, Document, etc.? Clicking on the +New button will show a variety of options based on the current visible page.
Contact Bubble - All active Company Employees will be listed here. For Administrators, the pages that each user on will be visible when hovering over the Bubble.

Feature Tabs - Across the top of ConstructionOnline, the Feature Tabs allow you to easily navigate through the numerous features offered; such as: Estimating in Financials, Daily Logging in Project Tracking, and much more.
Company Dropdown Menu - From the Company Dropdown Menu you can edit your profile, permissions, notifications, Public Profile, and more!
VIDEO

TIPS AND TRICKS
ConstructionOnline has numerous right-click menus throughout the platform - if you're looking to easily edit an RFI or change a Schedule Task, try right-clicking!
SUPPORT
For additional information about getting started in ConstructionOnline, contact UDA Technologies at 800-700-8321.