OBJECTIVE
To add Photos to ConstructionOnline via CO Drive.
BACKGROUND
ConstructionOnline Drive is a desktop application for Windows that integrates with ConstructionOnline to make uploading and editing your documents, schedules, emails and more easier than ever. With CO Drive, you'll save time and effort by combining the power of your desktop with the flexibility of the cloud.
THINGS TO CONSIDER
CO Drive must be downloaded onto your computer.
You will need a Pro ConstructionOnline account subscription to use CO Drive.
Uploading Files, Schedules, and Emails through CO Drive will directly upload into ConstructionOnline.
STEPS TO ADD PHOTOS TO CO DRIVE
Open CO Drive
Select the desired location for the upload via the Left Sidebars
Choose the Photos tab located at the top of CO Drive
Drag and drop the desired Photos from your computer to the indicated space within CO Drive

If Photos are already within the selected location, drop the Photos within the square where Photo previews are listed
Photos will automatically begin to upload with a status bar at the bottom of the window

Once completed, Photo names and details will appear within CO Drive
VIDEO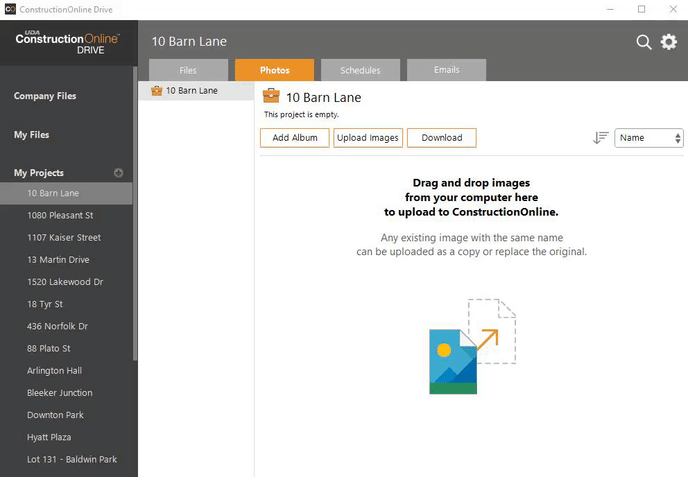 HAVE MORE QUESTIONS?
We're here to help! Chat with a Specialist by clicking the orange Chat icon in the bottom left corner or Contact UDA Support for additional options.