OBJECTIVE
To copy Albums or Folders, as well as Individual Files or Images, to the Portal
BACKGROUND
Give your Team access to important Files & Images by copying them to the ClientLink/TeamLink Portal. If a File is too large to send as an email attachment, copying it to the Portal ensures your project team can access it. Keep in mind when copying Albums & Folders that it will be an exact copy of the Album/Folder at that time and will not update as new Files & Images are added.
THINGS TO CONSIDER
Files & Images downloaded through the shared link are not tracked or logged by ConstructionOnline.
ClientLink/TeamLink users must have the "Recent Files" or "Recent Photos" Permissions checked to see Files & Images within the Portal.
Copying Albums & Folders takes an exact copy of it at that time, and will not update as new Files & Images are added to the original Album/Folder. To continually share new Files/Images, try Share Albums/Folders to the Portal.
STEPS TO COPY ALBUMS/FOLDERS TO THE PORTAL

Navigate to the desired Project via the Left Sidebar
Select the Files tab

Right-click on the desired Album/Folder, or Individual File/Image

Click Copy to ClientLink/TeamLink
Choose the Destination to send the Copy

Select Visible to All Clients/Subcontractors or select an individual user

Highlight the gray bar to copy the File without putting it in an existing Album/Folder OR select a preferred Album/Folder

Click Copy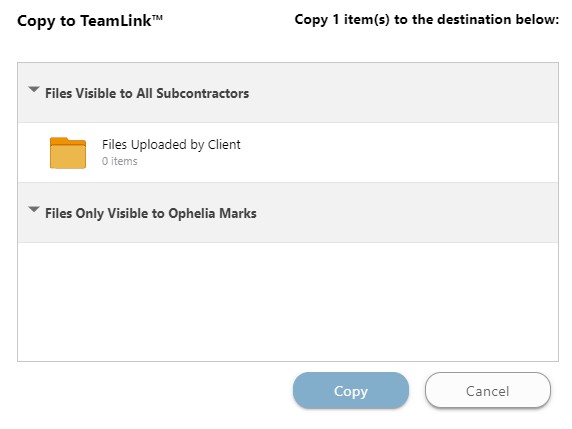 VIDEO
HAVE MORE QUESTIONS?
We're here to help! Chat with a Specialist by clicking the orange Chat icon in the bottom left corner or Contact UDA Support for additional options.